We recently hosted a quiz to test the community's liquid staking knowledge and to gather thoughts and feedback from prospective pSTAKE users. The quiz was based on our article, Liquid Staking: How Can it Improve DeFi?
With the 5 winners of the $150 $USDT prize pool now chosen (see below), let's dive into a brief recap!
We're so grateful for all of the thoughtful responses we received to our open-ended questions about how DeFi will impact your lives and your queries regarding using a liquid staking protocol. We'd like to take a moment to highlight the correct answers and some of our winners' insightful responses.
Quiz Questions & Answers
Question 1: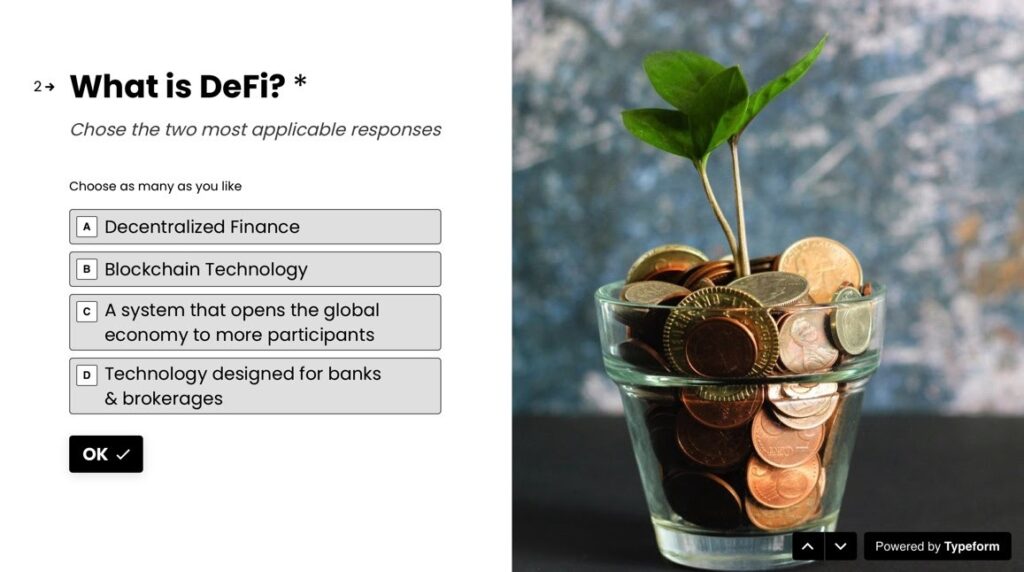 The two most applicable responses to this question are:
(A) Decentralized Finance and
(C) A system that opens the global economy to more participants.
These answers can be found within the first section of our article, "What is DeFi? And why does that matter to me?"
---
Question 2: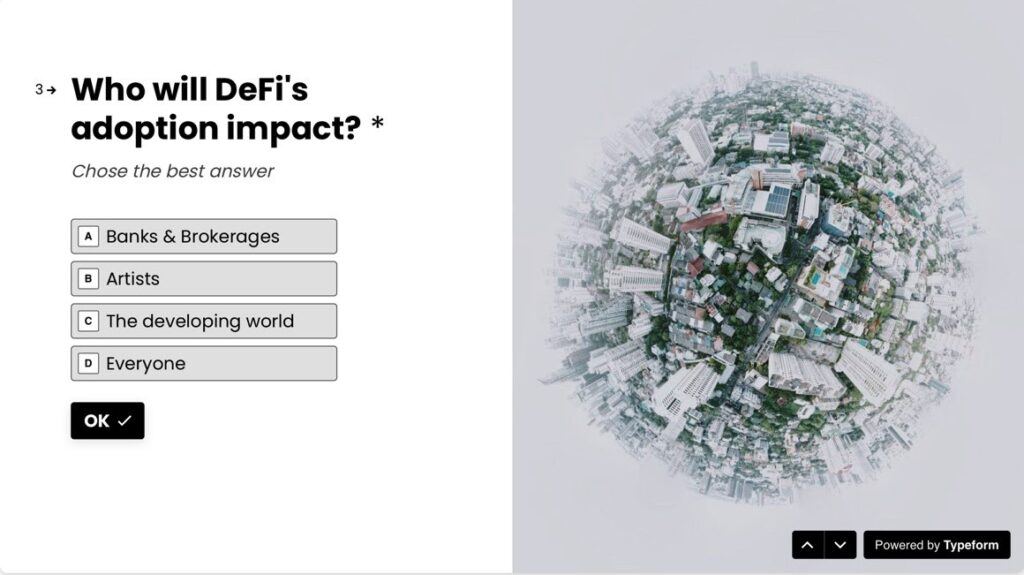 DeFi's adoption will impact banks and brokerages, artists, the developing world, and indeed, everyone. Therefore, the best answer is (D) Everyone.
---
Question 3: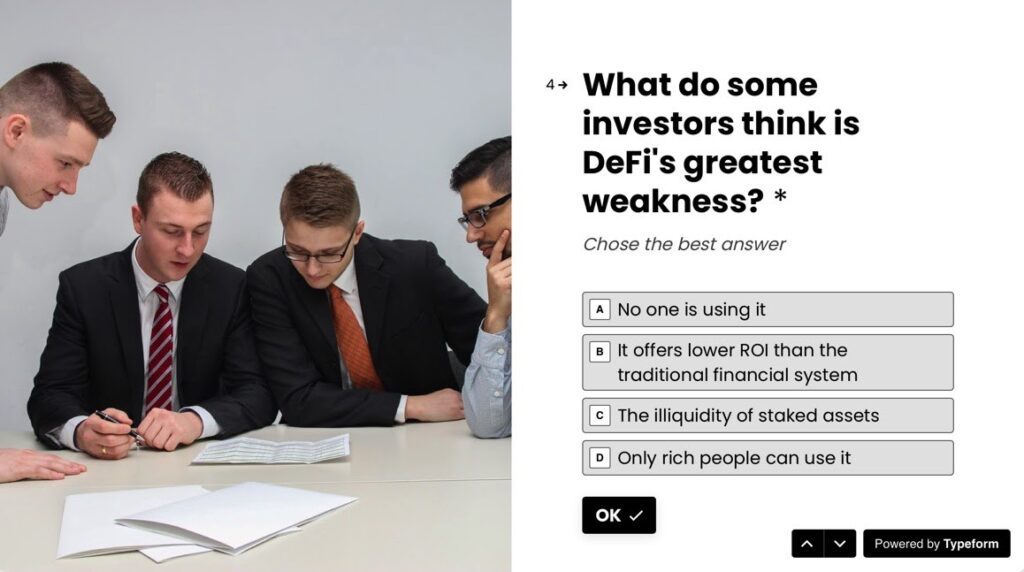 In the subsection of our article titled "What's the downside?", you'll read: "Many investors view staked assets' illiquidity as DeFi's primary limitation."
Therefore, the correct answer to this question is (C) The illiquidity of staked assets.
---
Question 4: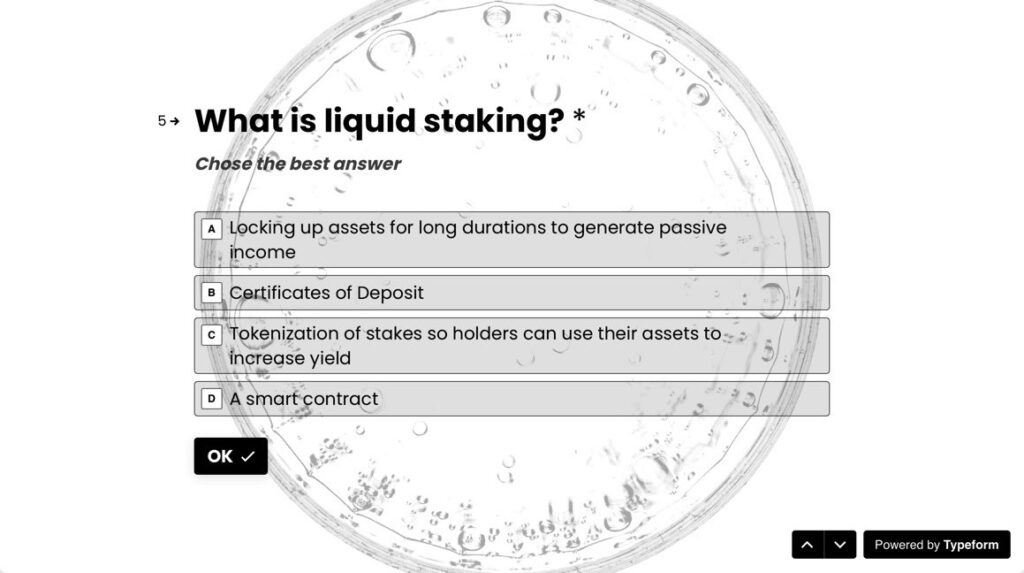 Liquid staking is is (C) Tokenization of stakes for holders can use their assets to increase yield.
---
Question 5: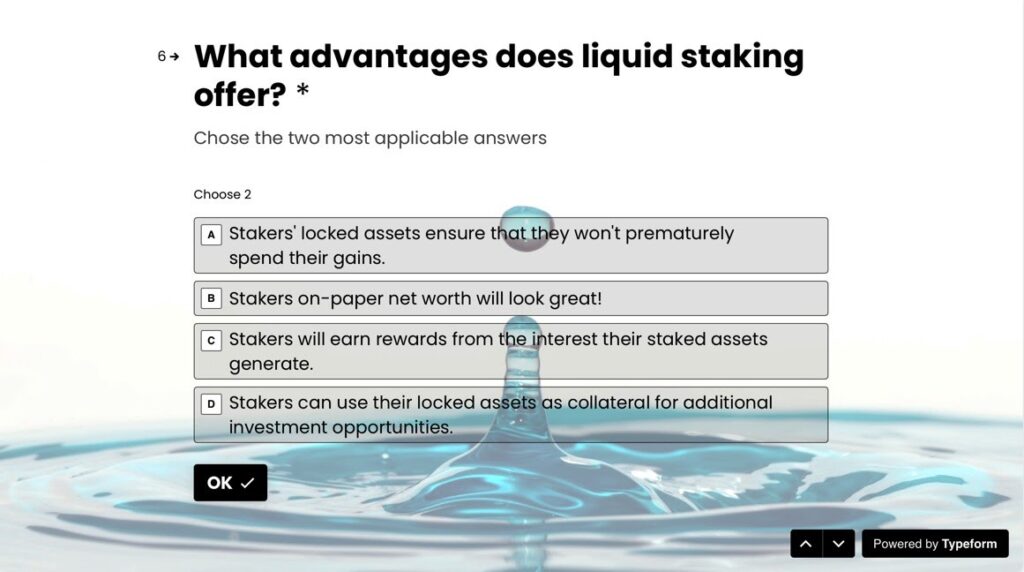 Finally, liquid staking primarily offers these two advantages:
(C) Stakers will earn rewards from the interest their staked assets generate.
(D) Stakers can use their locked assets as collateral for additional investment opportunities.
Whew! Some of those questions were tricky, but now that you know a little bit more about how to find the answers, we're sure you'll ace the next quiz if you didn't this time!
Open-ended Questions
We were really impressed with how many respondents got all (or almost all) of the multiple choice questions correct. We know they weren't all easy. In the end, we selected our five winners from those who not only got 5/5 correct, but also those who provided the most thoughtful responses to our open-ended questions. We'd like to share some of those with you.
How will DeFi impact your life?
"My money will be working for me. Earning greater rewards and interest than any financial institution can offer. And most importantly, it will give me more control over my own money."

"Living in a developing country, DeFi will allow me to slowly grow my small portfolio and give me access to other financial services such as lending and borrowing without a middle man — a feature that would otherwise be inaccessible to me due to barriers imposed by requirements."

"It will give me full control of my financial well-being and make it so that I do not need permission to spend or transfer my money and investments."

"It has begun allowing me to earn passive income that cannot be rivaled by institutions, speeding up the process of becoming financially independent."

"I will stop paying fees to the middleman. Not being judged, using a trustless system."
Congratulations to the Winners
Here are the 5 addresses that split the prize pool:
0xa622EbcF805D2F679081d3A25A06c2627Cb8a819
0x30C6A940A104462455e9A2326D9C4DeC41cD1449
0x6ca9c39584836a8c93adab2f4fdbcc245f20d549
0x4276a663ad347A40CA9adFCF2977930d02107039
0x0c381D84f3065AfeB92233AF3AA97470E34ec0Bb
We've already distributed the rewards, so if you recognize your address above, check your account balance!
Another Chance…
Whether you won in our first round or not, you're about to get another chance. To prepare for our next quiz, read our article Introducing pSTAKE: Unlocking Liquidity of Staked Assets. Five winners will split a $150 prize pool in $ATOM!
Our next quiz will run from October 10th — 13th at 5pm UTC, so get reading!
About pSTAKE
pSTAKE is a liquid staking protocol that unlocks liquidity for your staked assets. With pSTAKE, you can securely stake your Proof-of-Stake (PoS) assets, participate in protocol improvements and security to earn staking rewards, and receive staked underlying representative tokens (stkASSETs) which can be used to explore additional yield opportunities across DeFi.
At present, pSTAKE supports Binance Chain (BNB), Cosmos (ATOM), Persistence (XPRT), and Ethereum (ETH) networks' native tokens, with a view to support more chains and assets in the future (SOL, and AVAX).
Developed by Persistence
Persistence is a Tendermint-based, specialised Layer-1 network powering an ecosystem of DeFi applications focused on unlocking the liquidity of staked assets. Persistence facilitates the issuance and deployment of liquid-staked stkASSETs, allowing users to earn staking rewards while participating in DeFi primitives, such as lending/borrowing and liquidity provisioning on DEXs.
Persistence aims to offer a seamless staking and DeFi experience for PoS (Proof-of-Stake) users and enable developers to build innovative applications around stkASSETs.
Join Our Movement
Twitter | LinkedIn | Telegram | YouTube | Reddit | [email protected]