pSTAKE began as an experiment in Q4 of 2020 after witnessing the staggering results of the $XPRT StakeDrop. Since then, pSTAKE has emerged as the most prominent liquid staking solution for $ATOM and $XPRT.
So, it's time to answer an important question – why pSTAKE?
Background
The Persistence team, the developers of pSTAKE, were one of the early adopters of PoS and have been contributing to the Cosmos ecosystem since 2019.
Persistence is now among the leading PoS networks in terms of Staking Ratio (84%+) and Staked Value (Top 50) – demonstrating solid roots in the PoS community.
Persistence continues to expand its participation in the PoS space via its validator arm AUDIT.one. Launched in 2020, AUDIT.one currently supports 20+ networks, having helped to launch 7 of them.
With $150M+ in assets under delegation, AUDIT.one is the biggest validator in South Asia.
Aside from building the Persistence PoS network and running AUDIT.one, the team actively participated in several liquid staking working groups. But the $XPRT StakeDrop created a compelling case for making liquid staking the team's primary focus.
Persistence used the StakeDrop to airdrop $XPRT to stakers of several leading PoS networks. We sought to create a strong staking community for $XPRT with a good understanding of PoS. Networks selected include Cosmos, Kava, Terra and Polygon (previously Matic Network) – all solid networks with strong communities.
The StakeDrop exceeded our wildest expectations:
30,000,000 ATOM staked
22,948,373 LUNA staked
193,396,526 MATIC staked
11,300,000 KAVA staked
At current valuations, this amounts to 3.6 billion USD. This is a clear sign that stakers seek liquidity for their staked assets.
The PoS Ecosystem at a Glance
The Proof-of-Stake industry has grown from $9B in October 2019 to $390B in 2021 (3700% growth) – and it's not stopping.
At present, the top 10 chains account for 73% of the total PoS market cap.
When Ethereum 2.0 launches, the PoS market cap will quickly surpass $700B, producing exponential growth potential for early liquid staking protocols.
Major PoS ecosystems to watch include Ethereum, Solana, Cosmos and Polkadot.
Interestingly, only $29B is currently staked through staking protocols.
Emergence of Liquid Staking
As the PoS ecosystem matures, liquid staking will evolve to become an indispensable gateway to DeFi.
PoS tokens need to be staked (locked) on-chain to ensure network security. This presents a dilemma – secure the chain or earn DeFi yields?
As the DeFi ecosystem on a PoS chain expands, the underlying chain's staking ratio declines and it becomes more susceptible to attack vectors. Hence, chains that employ a liquid-staking-first approach will become the choice for stakers, developers, and users.
Solana is a great case study. With the growth of Solana's DeFi ecosystem, the number of stakers on Solana has increased in proportion to the liquid staking options available. Stakers on Solana grew by 79.98% in the previous 30 days since Jan 20.
Currently, over $200B of PoS assets are locked in staking. These assets are illiquid and unable to provide further utility for stakers. Moving forward, liquid staking will further bridge conventional staking with DeFi and create a new dimension of use-cases for PoS assets.
pSTAKE's Journey
The Persistence team advanced the pSTAKE protocol from ideation to launch in ~6 months. pSTAKE's testnet was launched in June 2021, with 1200+ daily active users performing 3000+ interactions daily. The testnet's purpose was to find bugs and acquaint users with the pSTAKE protocol.
Using pSTAKE to first support the Cosmos ecosystem was a natural choice for the team, as it capitalised on the team's strengths and experience. Cosmos also offered a first-mover advantage for pSTAKE. Currently, pSTAKE is the leading liquid solution for $ATOM and $XPRT.
One critical challenge with the Cosmos ecosystem was creating use-cases for the staked representatives – since DeFi in Cosmos didn't exist back then. Hence, the team developed the app on Ethereum to enable users to leverage their Cosmos assets in the rich DeFi ecosystem.
pSTAKE also evolved into one of the first cross-chain use-cases for the Cosmos ecosystem, powered by the pBridge (native bridge implementation by pSTAKE).
Read about the pSTAKE implementation in-depth here: docs.pstake.finance
Aside from pioneering the liquid staking space, pSTAKE also seeks to work closely with the crème de la crème of the Web3 industry. Actors that make a Web3 project successful include validators, ecosystem-driving funds, innovative builders, and Web3-native community.
pSTAKE's ecosystem checks off the list.
pSTAKE Traction
pSTAKE went live in July 2021 and was embraced by industry powerhouses including Galaxy Digital, Tendermint, Kraken Ventures, Coinbase, and others, leading to a $10M+ raise during its strategic funding round.
Since launch, more than $40M of $ATOM and $XPRT has been staked by pSTAKE users and the liquidity of stkASSET-ETH pools on SushiSwap now stands at ~$25M in TVL.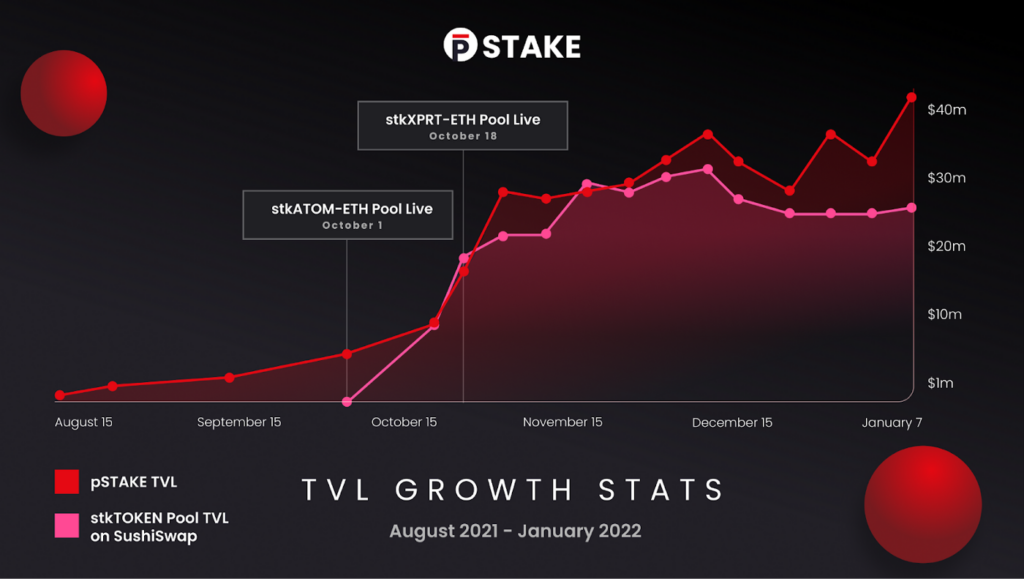 Highlights (as of Jan 20, 2022) include:
Total TVL: $61M+ (inclusive of StakeLP)
stkATOM TVL: $27.6M+ (17.4% – 7D growth)
stkXPRT TVL: $17.8M+ (9.1% – 7D growth)
Total stakers: 5,544
With $PSTAKE incentives going live next month, traction is expected to grow significantly.
The $PSTAKE public sale on CoinList with record-breaking participation has set the stage for the protocol:
Summary: https://bit.ly/3FPmETM
Upcoming Milestones
pSTAKE will be continually expanding liquid staking support to other major PoS chains as we progress, including Ethereum 2.0, Solana and other Cosmos-based chains.
Other current focuses of the pSTAKE team include bootstrapping further DeFi use-cases of stkASSETs (such as lending/borrowing, perpetuals, yield farming etc.), and establishing a Cosmos-based implementation of the pSTAKE protocol.
Specific milestones in the near future include:
bATOM integration with Anchor Protocol
$PSTAKE TGE
Support for Eth2.0 ($ETH)
Support for Solana ($SOL)
Issuance of Tendermint-based assets (stkATOM and stkXPRT) on the IBC-enabled Persistence Core-1 chain
Get Involved
About pSTAKE
pSTAKE is a liquid staking protocol that unlocks liquidity for your staked assets. With pSTAKE, you can securely stake your Proof-of-Stake (PoS) assets, participate in protocol improvements and security to earn staking rewards, and receive staked underlying representative tokens (stkASSETs) which can be used to explore additional yield opportunities across DeFi.
At present, pSTAKE supports Binance Chain (BNB), Cosmos (ATOM), Persistence (XPRT), and Ethereum (ETH) networks' native tokens, with a view to support more chains and assets in the future (SOL, and AVAX).
Developed by Persistence
Persistence is a Tendermint-based, specialised Layer-1 network powering an ecosystem of DeFi applications focused on unlocking the liquidity of staked assets. Persistence facilitates the issuance and deployment of liquid-staked stkASSETs, allowing users to earn staking rewards while participating in DeFi primitives, such as lending/borrowing and liquidity provisioning on DEXs.
Persistence aims to offer a seamless staking and DeFi experience for PoS (Proof-of-Stake) users and enable developers to build innovative applications around stkASSETs.
Join Our Movement
Twitter | LinkedIn | Telegram | YouTube | Reddit | [email protected]