What began as a discussion on pSTAKE's forum ~6 months ago has finally come to life. The pSTAKE Migration Utility is now live. Users can now perform the following single-click migration on https://migration.pstake.finance/:
$stkATOM(ERC-20) & $pATOM to $stkATOM on the Persistence Core-1 chain
$stkXPRT(ERC-20) & $pXPRT to $XPRT on the Persistence Core-1 chain
The Migration Utility enables users to seamlessly transfer assets from one chain to another without any intermediary, all while optimizing for gas fees.
Everything you need to know about the IBC-native stkATOM can be found here.
To learn more about the exact steps of Migration, read our comprehensive user guide below.
To get started, please ensure that you have some $ETH in your Metamask wallet to pay for the minimal fees associated with the Migration.
Step 1: Navigate to the pSTAKE ERC-20 Liquid Staking Migration Utility
Navigate to the pSTAKE Migration Utility It is the same for both ERC-20 liquid staked assets: $stkATOM(ERC-20) & $stkXPRT(ERC-20).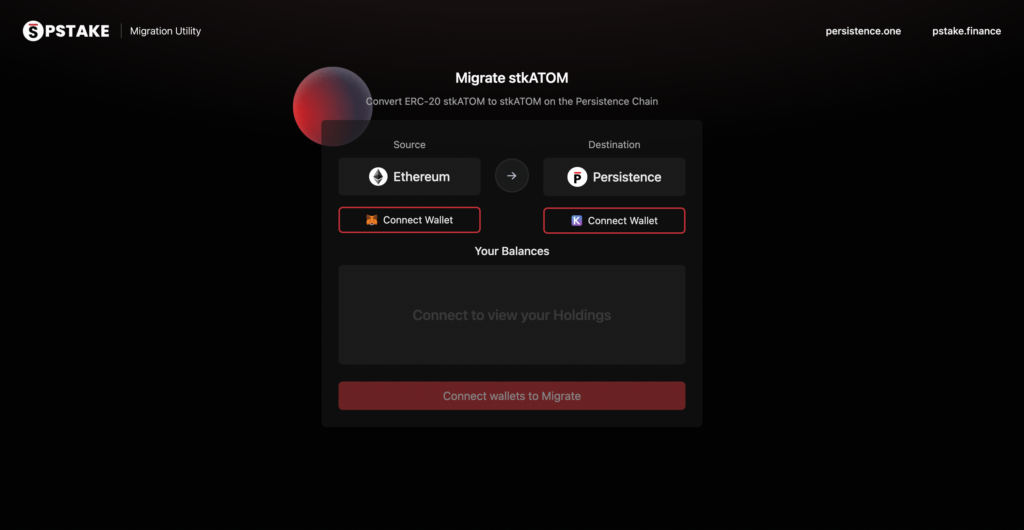 Step 2: Connect your Metamask & Keplr wallets
The Migration will transfer your $stkATOM(ERC-20) + $pATOM & $stkXPRT(ERC-20) + $pXPRT from Ethereum (Source) to Persistence (Destination).
First, connect your Metamask wallet that holds the above assets. After connecting your wallet, you can see all your balances, including your SushiSwap LP balance (if any). Click the drop-down arrow to switch between stkATOM(ERC-20) & stkXPRT(ERC-20).
Secondly, connect your Keplr wallet. This will be the address where you receive your migrated assets.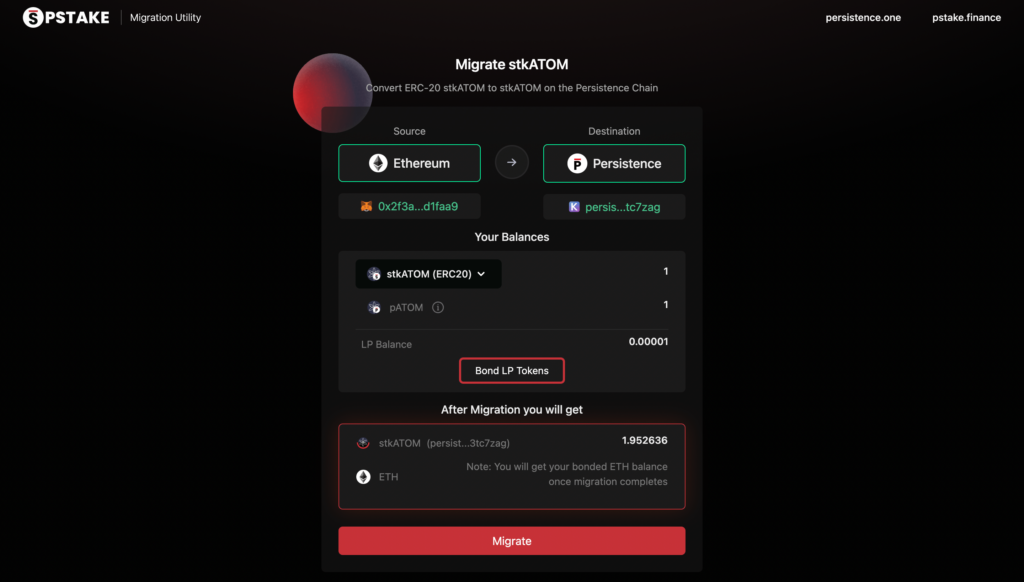 Step 3: Migrate all your liquid staked ERC-20 assets
You can see the amount of assets you will receive after the Migration in your Keplr wallet below your account balances.

For $stkXPRT(ERC-20), this will be 1:1 in $XPRT. However, for your $stkATOM(ERC-20), the amount of $stkATOM will not be 1:1 as it follows an exchange rate model. The stkATOM you receive will be worth the same $ value as your $stkATOM(ERC-20) & $pATOM combined. You can read more about how $stkATOM's exchange rate model works here.
Click on the Migrate button once you have verified your asset balances. Approve the transaction to migrate your assets. Voila, you have successfully migrated your assets from Ethereum to Persistence in a single click, optimized for fees.

Step 4: Remove liquidity from SushiSwap pools

This step only applies to SushiSwap LP token holders of $stkATOM( ERC-20) / $WETH or $stkXPRT (ERC-20) / $WETH pools. Whether you have bonded your LP tokens or have them unbonded, you can remove liquidity and receive your $ETH back.

Just go to the 'Remove Liquidity' section and connect your wallet. After connecting your wallet, you can see your LP position and the $WETH amount you will receive. Click on the 'Remove Liquidity' button and sign a transaction to remove liquidity and redeem your $WETH from the pool.

As the token contracts have been paused on Ethereum, the User balance will still be visible on Metamask, but the tokens cannot be used anywhere i.e. No transfer allowed.

Please note: This change does not impact the regular migration process of $stkATOM / $stkXPRT (ERC-20) and solely provides the option to redeem the underlying ETH from the pool.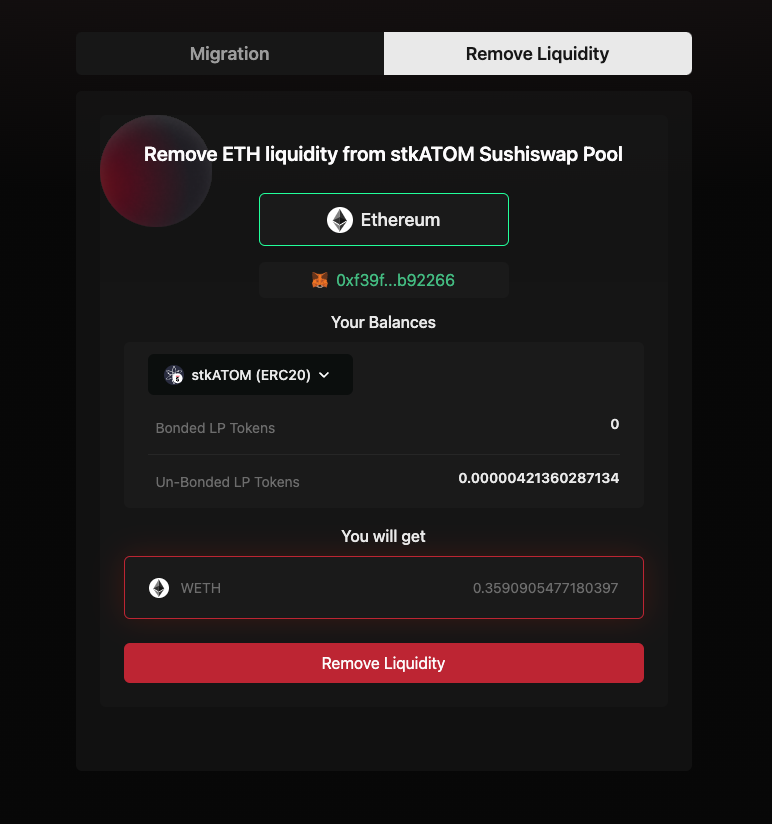 Step 5: Verify your $stkATOM & $XPRT balance on Persistence
Head to cosmos.pstake.finance. Connect your Keplr wallet. You should now be able to see your $stkATOM & $XPRT balance under the 'Assets on Persistence' dropdown in the left panel of the app. Alternatively, you can view this on Mintscan directly too.
As of writing this post, you can now put your stkATOM to work in Cosmos DeFi while it earns ~24% APY staking rewards (after all fees) in the background. One option is to provide liquidity on the $ATOM / $stkATOM Stableswap pool on Osmosis for an overall strategy APR of ~32% in $ATOM & $OSMO. You can also farm the $stkATOM / $ATOM Ranged pool on Crescent for an overall strategy APR of ~40% in $ATOM & $CRE.

And as for $XPRT, you can provide liquidity to the $XPRT / $OSMO pool on Osmosis for a 26% APR in $OSMO or on cSwap's $CMST / $XPRT pool for a 79% APR in $CMDX. You can simply stake your $XPRT with any or multiple validators for a ~30% staking rewards APY in $XPRT for now while the pSTAKE team works on deploying $stkXPRT on the Persistence Mainnet.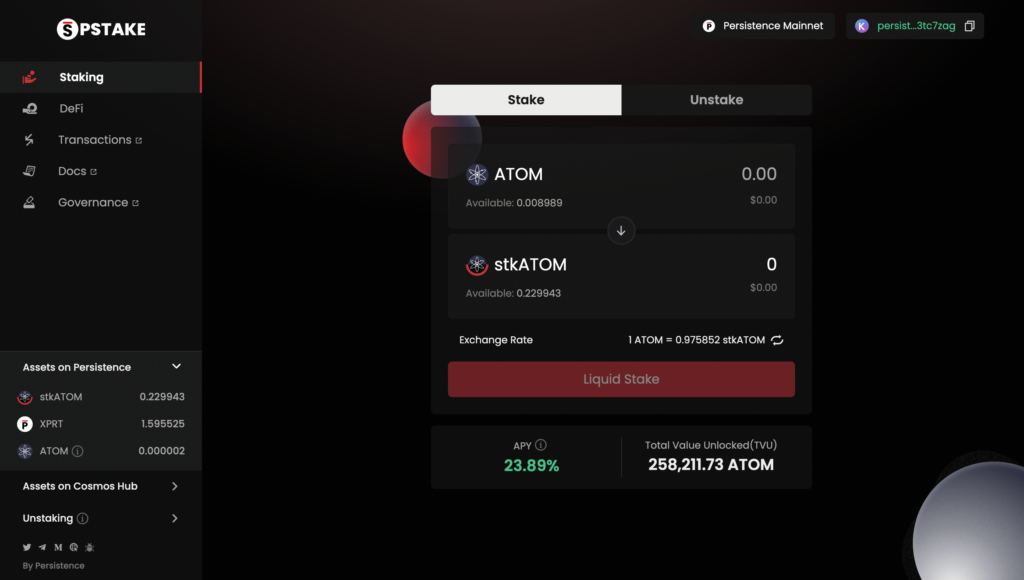 About pSTAKE
pSTAKE is a multi-chain liquid staking protocol that unlocks liquidity for your staked assets. With pSTAKE, you can securely stake your Proof-of-Stake (PoS) assets to earn staking rewards, and receive staked underlying representative tokens (stkASSETs) which can be used to explore additional yield opportunities across DeFi.
At present, pSTAKE supports Binance Chain (BNB), Cosmos (ATOM), Persistence (XPRT), and Ethereum (ETH) networks' native tokens, with a view to support more chains and assets in the future.