pSTAKE's ATOM liquid staking solution stkATOM integrated with Crescent, one of the most efficient hybrid orderbook DEX in the Cosmos Ecosystem.

Amplified liquidity because of ranged pools will empower users with optimal swaps & farming, complimenting the capital efficiency of liquid staking ATOM. stkATOM/ATOM Ranged Pool is also the first-ever ATOM LSD / ATOM pair & the first-ever pool with incentives in $ATOM & $CRE on Crescent.

Everything you need to know about stkATOM can be found here.

To learn more about how to stake your ATOM on pSTAKE and use your stkATOM on Crescent, read our comprehensive user guide below.

To get started, please ensure that you have ATOM in either the Keplr or Ledger hardware wallet. You may also need XPRT & CRE tokens in your wallet to pay any associated transaction fees.

Liquid Stake ATOM to mint stkATOM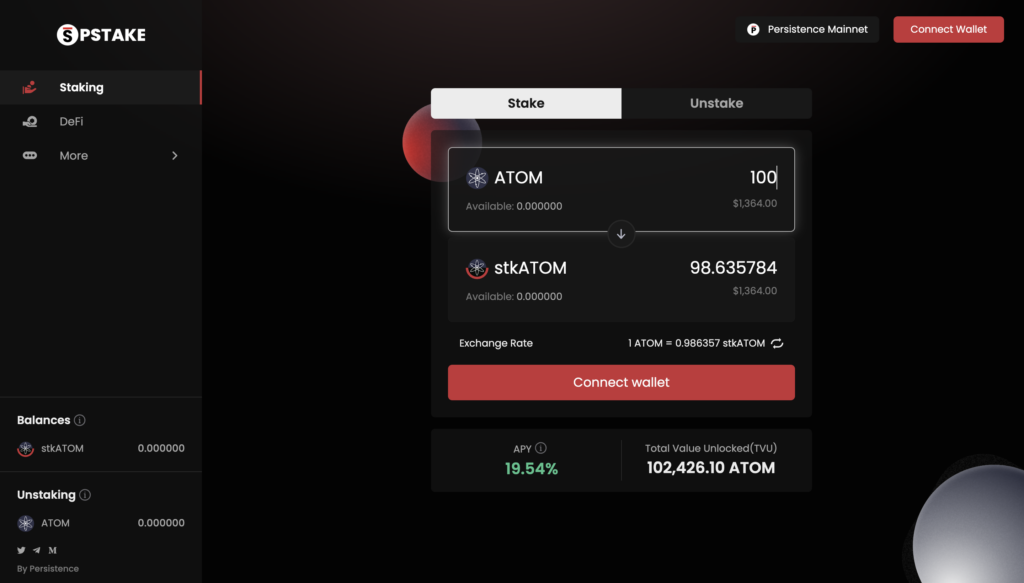 Step 1: Navigate to the pSTAKE ATOM app.
Navigate to https://cosmos.pstake.finance/ and connect your wallet to the platform interface (switch the network if prompted). Accept the Terms & Conditions before starting.
Step 2: Stake your ATOM.
You'll now be directed to the ATOM staking page, where the "Stake" tab will appear by default. On the page, the ATOM section displays your available ATOM balance in your Cosmos wallet address.

Enter the amount of ATOM you want to liquid-stake, click "Liquid Stake" at the bottom, then confirm the transaction in your wallet.
Step 3: Complete IBC Transactions.
Next, you'll need to execute two separate transactions. The first transfers ATOM from Cosmos Hub to the Persistence Core-1 chain via IBC, and the second transaction liquid-stakes the transferred ATOM.
Your wallet will open and prompt you to approve both transactions, one by one.
Step 4: Mint stkATOM.
After the transactions confirm, the pSTAKE protocol will issue stkATOM into your wallet. Your current balance will be visible on the left-hand side of the page.
Congratulations – you've now successfully liquid-staked your ATOM on pSTAKE! Staking rewards will now be automatically compounded, generating additional yields.

Transfer stkATOM to Crescent from Persistence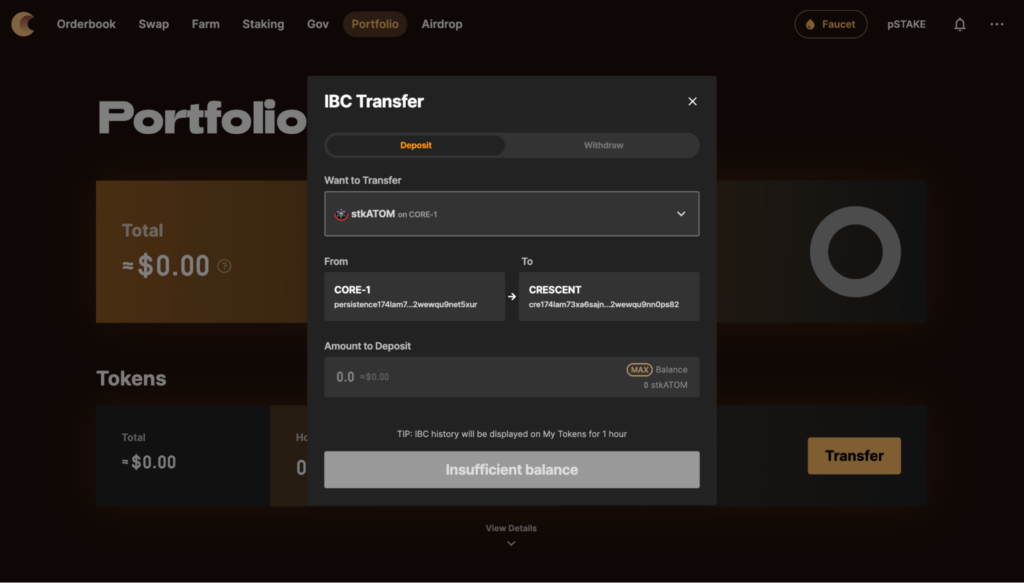 Step 1: Navigate to the Crescent app.
Navigate to https://app.crescent.network/portfolio and connect your wallet to the platform interface.
Step 2: IBC Transfer your ATOM & stkATOM
Go to the Portfolio section on the top bar & click on transfer. An IBC transfer modal will pop up. Select stkATOM as the token to transfer from Persistence Core-1 to Crescent. Enter the amount to deposit & click on Deposit. Approve the transfer on your wallet and wait a few seconds for the transaction to complete. Voila, you have successfully transferred stkATOM to Crescent.

Deposit stkATOM & ATOM in the Crescent Ranged Pool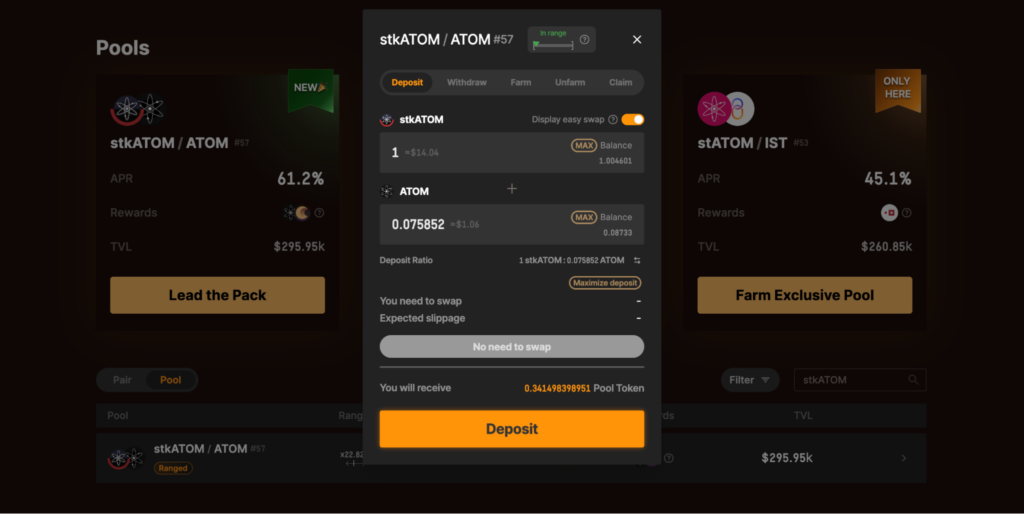 Step 1: Navigate to the stkATOM/ATOM Ranged Pool 
Click on the Farm tab in the top navigation bar or visit https://app.crescent.network/farm. In the search bar, type stkATOM to find the pool and click on it.
Step 2: Add liquidity to the stkATOM/ATOM Ranged Pool
A modal with a deposit screen will popup. Enter the amount of stkATOM you wish to add to the pool. Based on that, Crescent will automatically calculate the amount of ATOM to be deposited.
After clicking on Deposit, approve the wallet transaction that pops up.

Farm your stkATOM/ATOM pool LP tokens on Crescent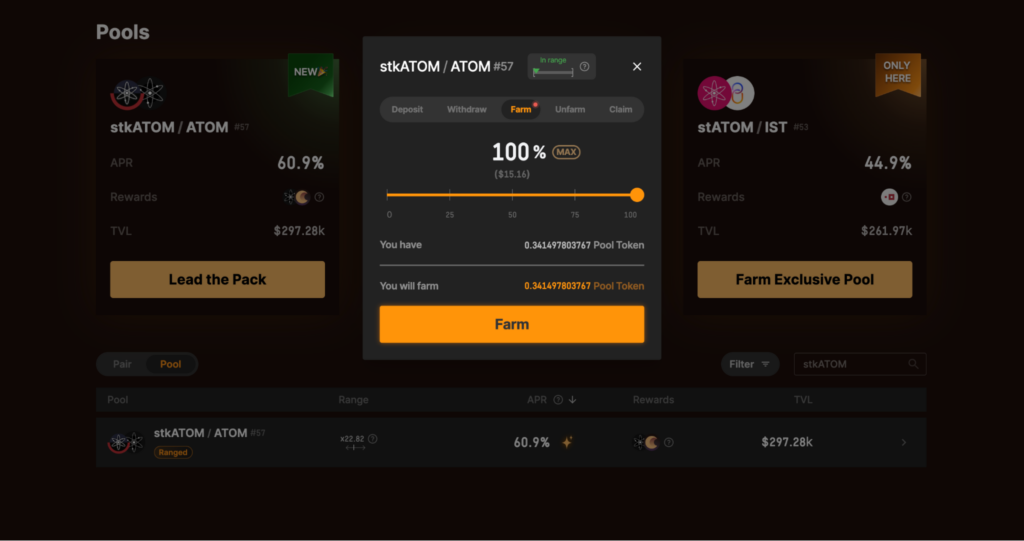 In the exact modal, click on Farm. Adjust the slider to indicate what % of your LP tokens you want to farm. After clicking on Farm, approve the wallet transaction that pops up.
You can view the rewards you earned in real time at https://app.crescent.network/farm. 

Get Started Now
The goal of this guide is to serve as a helpful resource to walk users through the entire liquid staking ATOM on pSTAKE and farming on Crescent, our latest Cosmos DeFi integration.
For more information, visit pstake.finance/atom and dive deeper into everything surrounding our new ATOM liquid staking implementation.

About pSTAKE
pSTAKE is a liquid staking protocol that unlocks liquidity for your staked assets. With pSTAKE, you can securely stake your Proof-of-Stake (PoS) assets, participate in protocol improvements and security to earn staking rewards, and receive staked underlying representative tokens (stkASSETs) which can be used to explore additional yield opportunities across DeFi.
At present, pSTAKE supports Binance Chain (BNB), Cosmos (ATOM), Persistence (XPRT), and Ethereum (ETH) networks' native tokens, with a view to support more chains and assets in the future.